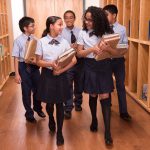 Bellesini Academy seeks to admit boys and girls who aspire to go on to a competitive private high school and then to college.  For this reason, potential students should enjoy school and learning, and should have motivation to succeed in a rigorous academic environment.  In addition, qualified applicants must possess honesty, integrity, and self-control. The admissions process is designed to identify students and families who will benefit from our specialized instruction and programs.  Applicants must be eligible for Free & Reduced Lunch and be residents of Lawrence.
Admissions is complete for the 2018-19 school year.  Online admissions applications will be available for the 2019-2020 school year starting on February 1st, 2019 for:
Boys entering grade 5 in Fall 2019
Girls entering grades 5 in Fall 2019
Limited availability for girls and boys entering grades 6
If you are interested in receiving an reminder when the application process opens for the 2019-20 school year, please click here to sign up for a reminder.
Hard copy of the application will be available at our office at 94 Bradford Street in Lawrence between the hours of 8:30 am and 5:00 pm starting February 1, 2019.
Questions regarding admissions may be directed to admissions@bellesiniacademy.org or to our office at (978) 989-0004.
Blessed Stephen Bellesini, O.S.A. Academy, Inc. admits students of any race, color, gender, and national and ethnic origin to all the rights, privileges, programs, and activities generally accorded and made available to students at the school. Bellesini Academy does not discriminate on the basis of race, color, gender, and national and ethnic origin in administration of the educational policies, admissions policies, scholarship and loan programs, and athletic and other school-administered programs.