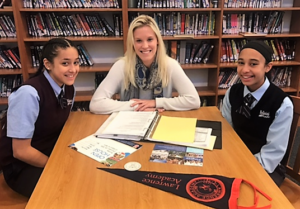 The mission of Bellesini's Alumni Support Program is to provide support services to alumni throughout high school and college in order to ensure that all alumni complete high school and go on to earn a four-year college degree. While our extended day and school year do a superb job of preparing students for success in private high schools, another critical component of our students' long-term success is the support we provide throughout secondary school, college, and beyond through our Alumni and Alumnae Support Programs. 
With the four-year high school graduation rate for students in Lawrence at just 71% and only 10% of Lawrence adults age 25+ holding a four-year college degree, it is vitally important that we continue to support our graduates throughout high school and into college so that they will attain an education level that will ensure that they break out of the cycle of poverty.  Program staff guide students through the high school placement process, including SSAT/HSPT preparation, admissions applications, admissions interviews, and financial aid applications. Once students have graduated, the program helps graduates transition from Bellesini to high school and provides support services throughout high school and college, including:
Educating families about preparatory school expectations and systems, and providing advocacy/translation services for non-English speaking parents; 

Assisting students with course selection and tracking their academic progress; 

Connecting students to academic resources as well as extracurricular opportunities on their respective campuses; 

Coordinating logistics such as transportation to/from schools, access to books, supplies, and lunch cards; 

Developing individual strategies for academic success, including a four-year plan that puts them on-track for college; 

Providing tutoring and other academic support for alumni; 

Preparing students and their families for the college application process, including providing access to college admissions test preparation, organizing college visits, and completing applications and financial aid forms.
With each graduating class, our number of alumni grows.  The program serves more than 200 alumni and 60 alumnae in all grades of high school and college, running throughout the school year as well as the summer months. The annual cost to provide support services to an alumnus is $1,000.