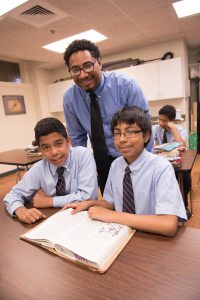 We seek talented faculty and staff who are committed to our mission of helping our students start down a path toward preparatory high school, college, and eventually a successful career.
Bellesini Academy posts all open positions on schoolspring.com. Please refer to School Spring for open positions.
Massachusetts state law requires all school employees to complete a fingerprint-based state and national background check. Information about the law can be found here. Consistent with human resources policies, all information will remain confidential and will be reviewed only by those with applicable authorizations.
To schedule fingerprinting, please visit www.identogo.com/FB/Massachusetts.aspx for information about MorphoTrust USA IndentoGo™ enrollment centers.
The Bellesini Academy provider id number is 01490880.
Policy of Non-Discrimination for Employment                               
It is the policy of Blessed Stephen Bellesini, O.S.A. Academy, Inc.  to maintain a school environment that is free from discrimination and to conduct its educational practices, hiring and other school administrative programs on the basis of an individual's qualifications and abilities. Blessed Stephen Bellesini, O.S.A. Academy, Inc. does not discriminate on the basis of race, color, national or ethnic origin, religion, gender, age or disability or any other classification protected by law.