Bellesini Academy awarded $300,000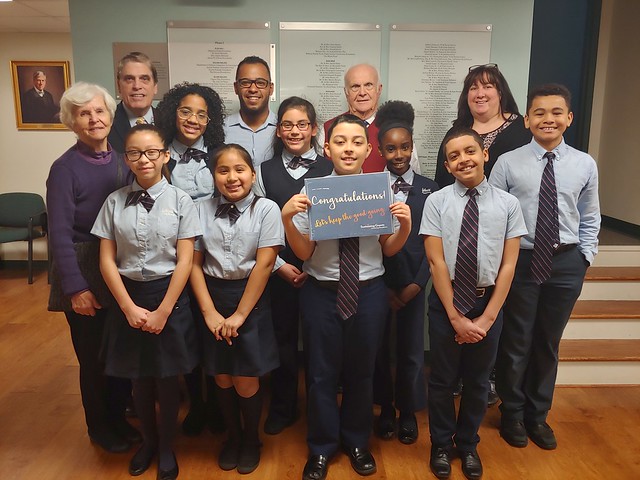 Lawrence nonprofit receives Cummings Foundation grant
LAWRENCE, MA (5/10/2019) – Blessed Stephen Bellesini, O.S.A. Academy is one of the local nonprofits sharing in Cummings Foundation's $25 million grant program in 2019. The Lawrence-based organization has been awarded a $300,000 Sustaining Grant, to be disbursed over 10 years. Julie DiFilippo, Bellesini's Head of School, represented the nonprofit at a May 2 awards night at TradeCenter 128 in Woburn.
Founded in 2002, Bellesini Academy is an independent, Catholic middle school dedicated to providing quality scholarship education to young men and women from limited financial means living in Lawrence. The mission of the school is to provide an academically challenging and highly structured environment that develops the potential for each student to succeed in competitive secondary schools and colleges.
The Academy is named in honor of Stephen Bellesini, a 19th century Augustinian friar who dedicated many years to the education of young boys from disadvantaged families in Italy. His school was known as la scola por gnent, or "The School for Nothing," because it was tuition free.
"We are tremendously grateful to the Cummings Foundation for its ten-year sustaining grant to support Bellesini's Alumni Support Program," said Julie DiFilippo. "Since 2007, our Alumni Support Program has provided a wide range of support services to our alumni as they progress through high school and on to college. The program is a critical component of our students' long-term success. 100% of our alumni have graduated from high school, and 97% have gone on to college, trade school, or to serve in the military. With the opening of our Girls' School in 2015, doubling our student body, we have expanded the program and our staff to serve the needs of all of our alumni," said DiFilippo. "This sustaining grant will provide critical support the program as we serve a growing number of alumni in the coming years."
The Sustaining Grants initiative builds on Cummings Foundation's $100K for 100 program. First offered in 2012, $100K for 100 annually awards $10 million through multi-year grants of $100,000 each to 100 nonprofits that are based in and primarily serve Essex, Middlesex, and Suffolk counties. Grant recipients that received their final grant disbursements in 2018 were automatically considered for $15 million in Sustaining Grants.

"We introduced Sustaining Grants to help alleviate the constant burden of fundraising so nonprofit professionals can spend more of their limited time and resources on actually providing services," said Christina Berthelsen, grants manager at Cummings Foundation.

Cummings Foundation has awarded nearly $250 million to date in Greater Boston alone. Funds are generated through commercial properties that are owned by, and operated for the sole benefit of, Cummings Foundation. All of its buildings are managed pro bono by Woburn commercial real estate firm Cummings Properties.

Sustaining Grants winners were selected primarily by a 33-member volunteer committee, which included former state legislators, CEOs of local companies, and a retired justice of the Massachusetts Supreme Judicial Court, among many others. Committee members met with each nonprofit twice to learn how the $100K for 100 funds helped to advance its mission, and how it might put a 10-year grant to use.

View the complete list of the 50 Sustaining Grants winners at www.CummingsFoundation.org. An additional 100 winners will be announced in June through the $100K for 100 program.

Bellesini Academy serves 60 boys in grades 5 through 8 and 45 girls in grades 6 through 8. In addition, the Academy provides graduate support services to 150+ alumni who attend area private high schools and colleges. Bellesini admits students of all faiths who reside in Lawrence and qualify for the Federal Free & Reduced Lunch Program.
About Cummings Foundation
Woburn-based Cummings Foundation, Inc. was established in 1986 by Joyce and Bill Cummings and has grown to be one of the three largest private foundations in New England. The Foundation directly operates its own charitable subsidiaries, including New Horizons retirement communities in Marlborough and Woburn. Its largest single commitment to date has been to Cummings School of Veterinary Medicine at Tufts University. Additional information is available at www.CummingsFoundation.org.