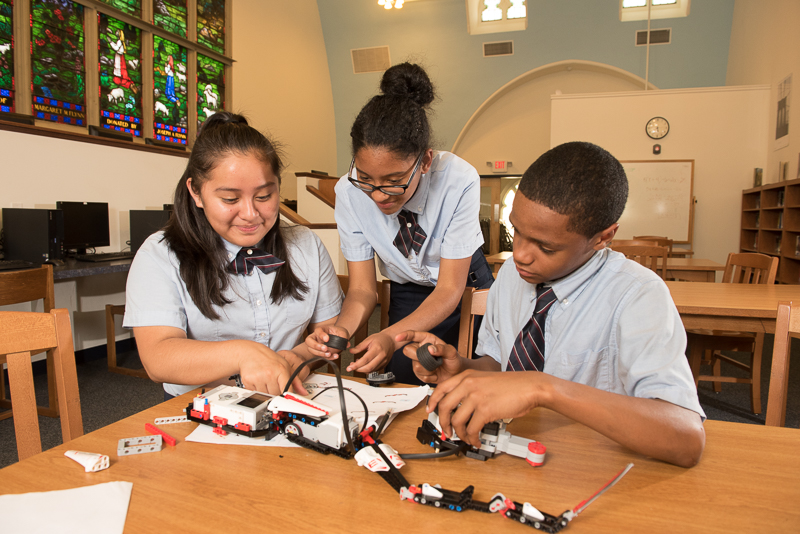 Bellesini Academy serves 60 boys in grades 5 through 8 and 45 girls in grades 6 through 8. In addition, the Academy provides graduate support services to 150+ alumni who attend area private high schools and colleges.  Bellesini admits students of all faiths who reside in Lawrence and qualify for the Federal Free & Reduced Lunch Program.  With an average annual income of just $31,725, Bellesini families fall well below the Federal Lunch Program limit of $44,863 for a family of four.  91% of Bellesini students are Latino, 6% are Caucasian, and 3% are African American.  69% of Bellesini students are Catholic, with the remainder representing a variety of faith traditions.  29% of students were born in a foreign country, including the Dominican Republic, Ecuador, Lebanon, Puerto Rico, Guatemala, Brazil, Congo, El Salvador, Peru, Haiti, Nicaragua, Costa Rica, Honduras, Mexico, and Columbia.  69% of students live in homes where English is not spoken, and 66% of students reside in single parent households.
In September 2015 the Academy began admitting female students to a separate "coinstitutional" girls school.  A single class of 6th grade students was enrolled for 2015-16 with one additional class being admitted each of the following year.  By the fall of 2018 the girls school will serve 60 female students in grades five through eight.
The educational background of our parents demonstrates a need to focus on academic readiness and parent education. Only 44% of Bellesini parents attended school in the United States.  59% have a high school diploma or GED, and 13% have only completed 8th grade.  Just 16% went on to receive some level of post-secondary training.
The Academy's long term relationship with its students and their families is one of the most important reasons why Bellesini students achieve success.  Beginning when students arrive as fifth graders and continuing on through eighth grade, high school, and college, Bellesini staff and faculty work closely with students and parents in order to ensure that each student will reach his full potential and stay on track to attend a private preparatory high school and eventually earn a four-year college degree.  And while Bellesini is a tuition-free school, all parents are required to invest in their child's education by volunteering through the Academy's parent partnership program.  Parents contribute a total of more than 2000 volunteer hours to the school annually.