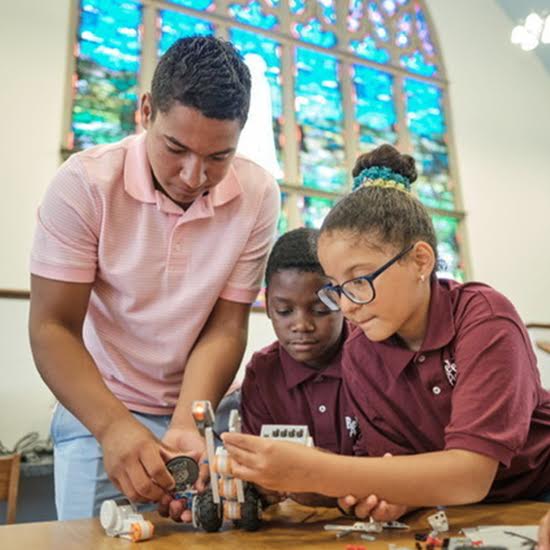 Bellesini's Summer Program plays a critical role in preparing our students for success in preparatory high school. Studies show that a large part of the achievement gap that exists between low-income and middle-class students is the result of a lack of intellectual engagement during the summer months. Low-income students actually lose academic skills between June and September.
Bellesini's Summer Program prevents summer learning loss while allowing our students to continue to make academic gains, enjoy safe summer camp activities, experience educational and fun field trips, and visit colleges and private high schools.

Students attend the following academic classes:
Reading and Writing
Math
Social Studies
Health and Life Skills (grade 5-8)
Citizenship and Computer Class (5th grade)
Spanish (6th & 7th grade)
High School Placement and SSAT Prep (8th grade)
Afternoon Enrichment Program includes:
Coding
Digital Art
Anime
Sign Language
Video Making, Editing and Photography
Theater (online)
Chess Club (online)
Fitness Club (remote and in-person)
Dance (remote)
Yoga (remote)
We need your help to provide our students and alumni with a safe place to learn and grow this summer! Would you like to Sponsor a Student for the Summer Program?

$50 = 1 day of camp
$250 = 1 week of camp
$500 = 2 weeks of camp
$1000 = All 4 weeks of camp
Alumni Summer Experience

A hallmark of our program is the Alumni Support Program which tracks, supports, and engages with alumni through college and beyond. We are redesigning the way we will run our Summer Alumni Experience to provide the same impact in new circumstances. Bellesini will be offering support services, college preparation, and fun activities for our alumni this summer, keeping them safe and on track to achieve a college degree. The cost to provide these programs is $200 for each alumnus.
Please support our alumni summer experience for our 100 high school-aged alumni. Activities include:
College Prep Program
SAT Prep
Essay Writing
College Visits (virtual)
Scholarship Applications and Essays
Community Service Opportunities
Base Mentoring Program
Grade level class meetings
Girls High School Health, Fitness and Leadership Program
Boys Fitness Program and Basketball Tournament (if appropriate)